Prahar Adventure Camps
Summer camps are held by Prahar to shape the impressionable minds of children into a soldierly mould, children are trained in obstacle crossing, civil defense, group activities, rock climbing, rappelling, etc. at our camp site. In appreciation of the nation-building work of Prahar, Mr. Hemant and Mrs. Sulbha Zakate, renowned personalities of Nagpur have very generously donated 2.66 acres of land to the organization. This is now the campsite of Prahar known as Prahargadh. Prahargadh houses residential facilities for the campers who come here for the feel of adventure. In this picturesque countryside, 16 interesting obstacles have been constructed.
Basic Camp
The duration of basic camp that Prahar organizes is 7 days. This camp is organized in the summer vacations and the age-group available for this camp is 10 years and above. The children undergo morning running, obstacle training activities followed by breakfast and later on, some team-building activities. After lunch, the children have various competitions and different kinds of lectures. Evenings are full of sports and fun. The seven-day schedule makes a child self-reliant, creates a positive outlook, makes him discipline, instils good values in him, inculcates healthy competitive- spirit in him, creates an ability in him to adjust in all types of circumstances, makes him patriotic and above all develops leadership qualities in him. We call these students as Praharis as we teach them to fight the evil in them and the society. Overall, the basic camp molds a child into a responsible person.
Advance Camp
After attending the basic camp, a Prahari is eligible for the advance camp that Prahar organizes. This advance camp calls for more physical fitness and endurance. It is usually conducted in any location outside Nagpur where a Prahari will be able to do rappelling and rock-climbing in the natural environment. In this camp, various advance techniques of jungle survival, direction finding, living off the land is taught to the students. As this camp is conducted outside Nagpur and usually in jungles, it makes the children vigilant. A unique sense of acceptance is also seen in the Praharis.
Our previous camps
The Himalayan Trekking Camp and expedition to snow bound peaks is organised to imbibe endurance, acclimatization, resilience, and physical toughness.
Special Camps in Satpuda are conducted to create awareness about the environment, Jungle Survival, Physical Fitness, and Mental Robustness
Panchmani Jungle Trekking Camp
Hero of the Nation
Prahar wishes that every citizen of the country should epitomize the exemplary virtues displayed by their real-life heroes. As a very famous statement goes "A nation that respects its soldiers progresses". We at Prahar also believe that a soldier and his work needs recognition. Hence, Prahar organization started a tradition of honouring the Param Veer Chakra Awardees- highest gallantry medal during war times and the Ashok Chakra Awardees- highest gallantry medal during peace times, from the year 2014. In a grand function, organized by Prahar, the awardee or the next of kin is invited to Nagpur to share with us stories of the great valour of the heroes. The program is graced by eminent personalities of the Armed Forces and people of Nagpur. It is a mesmerizing event in which the grateful nation salutes its heroes and rejoices the passing of the mantle to future warriors.
Sadbhawna Padyatra
Dwarka is a place of religious importance to all. Therefore, an idea of organizing a Padyatra (route march) took birth for seeking God's blessings in achieving individual and collective goals. Praharis who include 8th std students of the schools of Prahar Samaj Jagruti Sanstha, instructors, Praharis of Prahar Defence Academy and well-wishers of Prahar Sanstha walk for 20-25km and cover the distance of 108 kms in 5 days to Dwarka. The aim of this route march was to inculcate a sense of physical fitness, mental toughness, adjustment and the techniques of living off the land amongst the Praharis. This Padyatra is an yearly event organized by Prahar Samaj Jagruti Sanstha.
Prahar Disaster Management
Prahar has trained instructors from the National Civil Defence College in disaster management. This Prahar team coordinates in rescue effort, transport of relief material, setting-up of temporary shelters, providing primary first aid and proper hygiene and sanitation. In the year 2001, there was a devastating earthquake in Bhuj, Gujarat. The destruction caused huge losses of man and material. Prahar immediately sent a team of 8 to the earthquake affected area to provide relief in terms of medicine and food grains and also rescued many people buried under the debris. Prahar's initiative was appreciated by the authorities of Bhuj. In the June 2013, a multi-day cloudburst centered on Uttarakhand occurred and Prahar immediately sent a team of experts under "Operation Mandakini" to provide rescue and relief work. This team did extremely well by establishing connectivity between 11 villages through rope way and also transported 20,000 kg of ration via rope bridges. They also transported sick people and helped in evacuation work too. The administration of Sonprayag, Rudraprayag and Gupt Kashi praised the work of Prahar and congratulated them for their bravery.
Visits to Army Establishments
Visits to armed forces establishments are organized to motivate the Praharis to join the armed forces and also to create awareness amongst them of the lifestyle of the armed forces personnel posted at different areas. It also helps in arousing patriotic fervor amongst the Praharis.
Horse Riding
Horse riding is recognized for having excellent therapeutic qualities. The psychological benefits can be of equal importance to riders as for the physical benefits. Simply being outdoors and enjoying the countryside boosts your general well being and acts as a great stress buster. Horse riding gives the real sense of exhalation and freedom when you ride, a feeling that is second to none. Furthermore, it helps in developing a relationship and sense of trust between you and your horse which is highly rewarding, learning how to take care and control an animal which is much larger than yourself helps develop confidence and builds leadership qualities. Prahar conducts regular horse riding courses to instill a sense of leadership in the youth.
Rock Climbing Club
Rock climbing is a sport in which participants climb up, down or across natural rock formations or artificial rock walls. The goal is to reach the summit of a formation or the endpoint of a usually pre-defined route without falling. Prahar has trained instructors of rock climbing, and we conduct sessions of bouldering and top rope.
Battle Model Making
India has a rich history. Various battles that our country has fought after the independence provide a deep insight about the valour of our soldiers. Battle-models are regarded as a great source for the strategic planning by the armed forces before any battle is fought. Hence, Prahar- Samaj Jagruti Sanstha introduced inter-school battle model making competition to develop interest amongst the students in the various battles that our armed forces have fought. This competition also aims at research to be done by the students regarding our history and to motivate them to join the forces. Prahar Samaj Jagruti Sanstha started this competition from the year 2015. Every year, different topic is given for the competition, which gets a huge response from schools and organisations.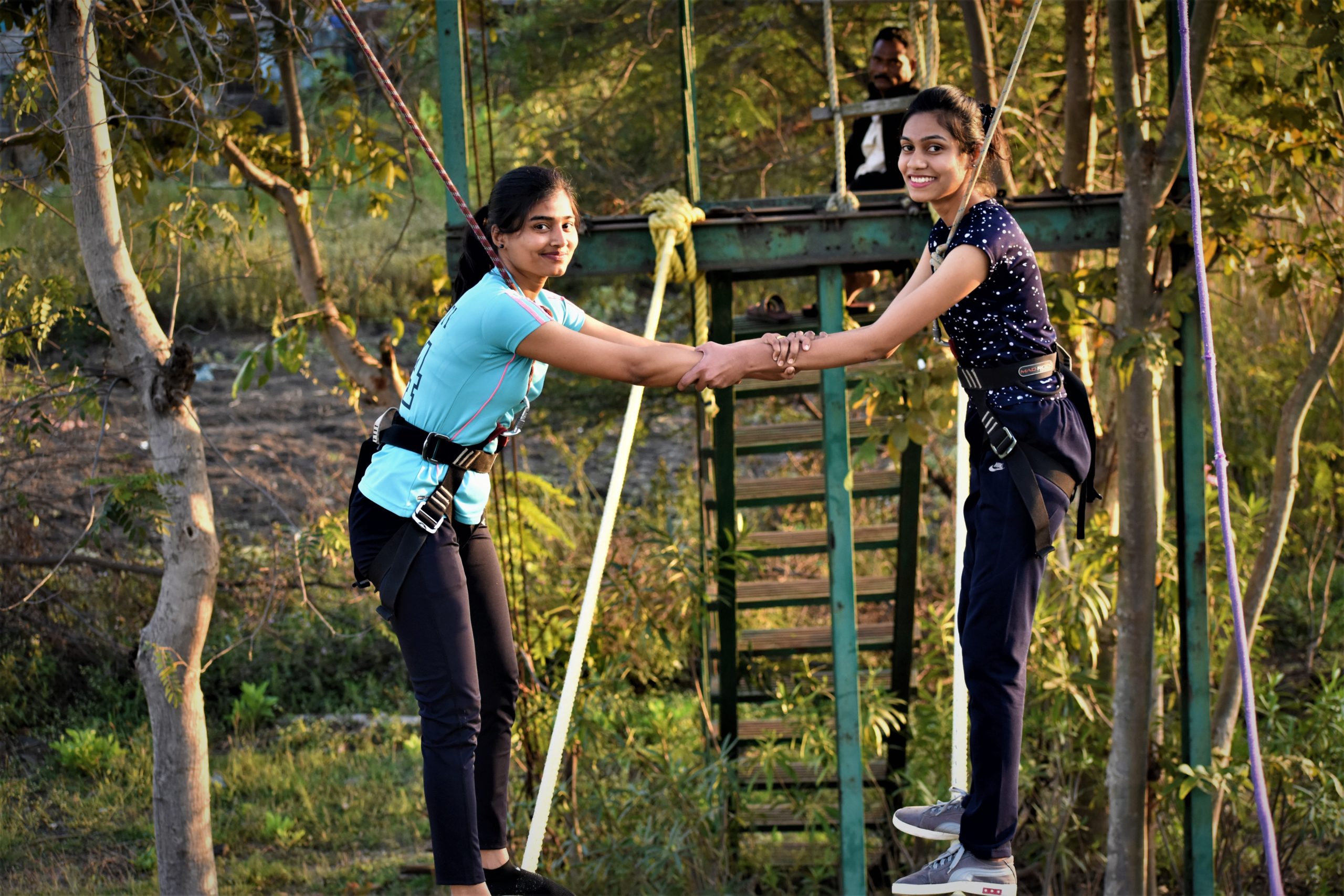 Outbound Training Workshop
Leadership skills are valued in every size and type of business. The aim of business houses should not be only to make leaders who can take decisions but it should also be to make leaders who lead by personal example. Prahar has formulated special 'Outbound Training Workshop' for the management students. The program "Tough gets Going" is a team –building workshop which operates leadership development sessions and allows the treasured skills to be learnt and improved. This program is conducted at Prahargadh and through all activities various facets of a leader are nurtured. The program covers training related to obstacle-crossing, group tasks, group planning, rock-climbing, rappelling, slideshows, movies, lectures and many more. This program develops a sense of team spirit, builds confidence, inculcates habit of adjustment, teaches discipline and gives opportunity to enjoy and learn the managerial skills practically on ground. Various colleges like Dr. Ambedkar Institute of Management Studies & Research, Institute of Management Technology, Institute of Management Technology, Datta Meghe Institute of Management Studies & Research and many more regularly participate in the outbound training program.
Sant Shree Gajanan Maharaj Vruddha Sewa Kendra
"Service to Mankind" is "the Service to God" Prahar believes that God is the roof and crown of creation and therefore through its activities Prahar provides selfless service to the society. Prahargarh is a home to old people who are bed ridden and require constant care. Medical attention is also provided to all these people. A great amount of satisfaction comes from serving these elders who bind us to our very traditions.
Rakhi Arpan
The tradition of sending rakhis to the soldiers stationed at the borders was started by Prahar to convey the feeling of brotherhood, gratitude and as a recognition for the noble work that a soldier does. Prahar's initiative motivated other schools to also send rakhis the soldiers. More than 50000 rakhis are sent under this initiative every year. The warm letters of soldiers after receiving a rakhi gives a sense of satisfaction which is unmatched.
Mega Play - Gatha Desh Prahariyon Ki
Gatha Desh Prahariyon Ki is an open air, three tier stage dramatically divided into stages, war front and screen, brought alive with short small enacts powered with powerful dialogues, songs with utmost patriotic favor. Hair raising verses, actual war scenes, adventure filled activities, a thrilling light and sound show brings alive the spectacular thrill of watching a battle ground with reliving the memories of our glorious war history. In this mega play more than 100 artists and technicians, back stage people and fire work experts participate. The presentation of these thrill filled stories and powerful dialogues spellbind the spectators.
National Leelatai Deshpande Memorial Drawing Competition
Late Smt. Leelatai Deshpande the mother of Col Deshpande and was an excellent painter. She was an expert in sketching and was a renowned artist. This competition is held in her memory every year on 17th July which happens to be her birthday. This competition receives a huge response from all over india.
Eco-Friendly Ganesh Idol Making Competition
The next generation should be made aware about environment conservation and lessons have to be taught right from school days. On the same lines it was brought out that the water bodies in the cities of the country are getting choked up due to immersion of idols made of non-organic material during festivals. Hence, the organisation decided to organize an eco-friendly Ganesh idol-making competition. In this competition too, many schools participate every year and make beautiful idols of Lord Ganesh using biodegradable materials.
Interschool Handball Competition
Another popular game in Indian sports is Handball. Handball as a sport is considered to have the art of accurate reflexes and precise judgement. It also makes a student brisk with his actions and also instils composure. To promote this game Prahar Samaj Jagruti Sanstha every year organizes inter-school Handball Competition.
Swami Vivekananda Interschool Football Competition
Swami Vivekananda was of the opinion that football makes the youth physically fit and prepares them to face life mentally and physically hence from 2013, to commemorate the 150th birth anniversary of Swami Vivekanada Prahar Samaj Jagruti Sanstha started an inter school football competition.
Late Shri Wasudeorao Deshpande Sanskrit Shloka Recitation Competition
Prahar conducts this inter school competition to help students improve their pronunviation skills and build their memory power.
Prahar Wasudeoleela Adhyatmik Kendra
Prahar Samaj Jagruti Sanstha has started spreading its wings in all parts of the country. To begin with it has built a prahar Wasudeoleela Adyatmik Kendra at Dwarka in Gujarat. This facility is made to provide spiritual guidance to all those who come to seek the blessings of lord Krishna at Dwarka, as the organization believes that any kind of good work requires the blessings of the almighty.